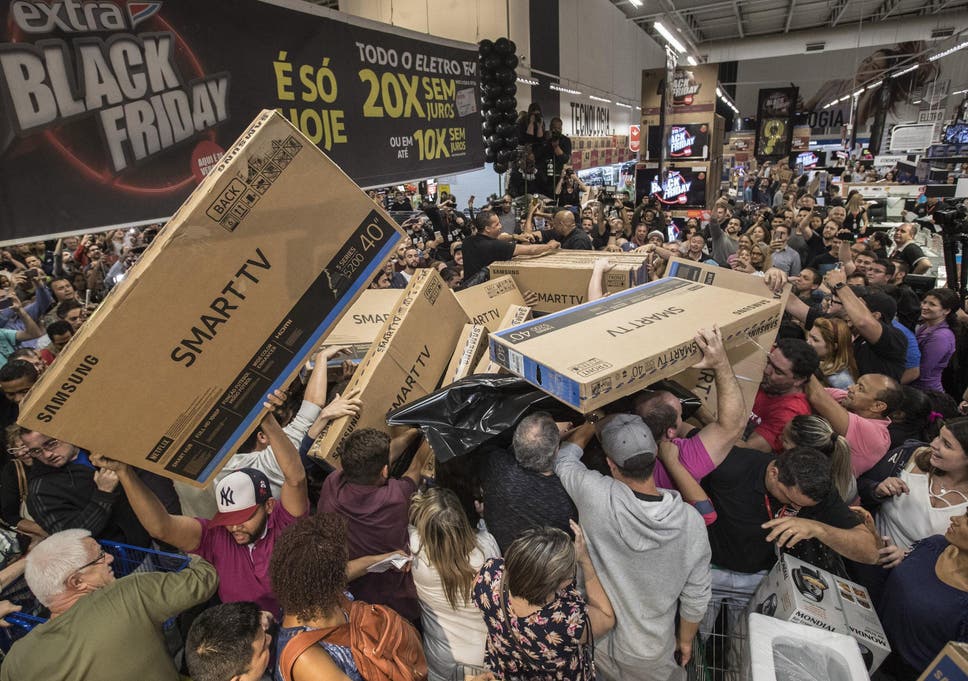 https://www.independent.co.uk/news/world/black-friday-2017-brazil-shoppers-discount-sales-brazil-south-africa-a8073651.html
Widely known as the best (and most chaotic!) shopping day of the entire year, Black Friday 2018 does not look to disappoint. With deals both in stores and online (Cyber Monday!) the deals are just waiting for you! Because Target is arguably one of the best stores ever I looked into their Black Friday ad to see what is in store for shoppers this Black Friday. Here's what I found:
https://www.target.com/p/fitbit-versa-smartwatch-with-small-large-bands/-/A-5349595
The Fitbit Versa is usually sold at a whopping $199.95, but will be $149 on Black Friday. This saves you $50.95 on one of the hottest gifts of the year.
https://www.target.com/p/beats-174-powerbeats3-wireless-earphones-neighborhood-collection/-/A-52904572
These Wireless PowerBeats3 Earphones are one of the most sought after gifts this season for gym junkies and music addicts alike. They are usually $200 but will be only $89.99 on Black Friday. That saves you $110!!
https://www.target.com/p/beats-solo3-wireless-headphone/-/A-51635301
The Beats Solo3 Wireless will be dropping down $120 from their originally price of $300 to $179.99! Dang!
https://www.apple.com/shop/product/HLSG2ZM/A/tile-sport-bluetooth-tracker
The Tile bluetooth tracker is the perfect gift for the forgetful person in your life. And eve better… it's on sale for $20, saving you $15 from the original price.
https://www.engadget.com/2018/09/20/gopro-hero-7-black-review/
The GoPro Hero7 is bluetooth, waterproof, and can live stream in 4k camera quality. Although there is no actual price reduction on it, if you purchase it Target will give you a $60 Target gift card along with it. The Hero7 sells at $399.99. Sounds like a pretty good deal to me!
Ancestry kits have become more popular in recent years and with a deal this good it is hard to pass up. Regularly $99.99, the price will drop to $59 and customers will receive a $10 Target gift card with purchase as well.
Of course those were just a select few deals that caught my eye, the rest of the deals can be found here: https://weeklyad.target.com/promotions?code=Target-00181104&page=34&lnk=PreviewtheBlack
Happy Holidays & Happy Shopping!